Next Steps Parent Leadership Training Series
This eight-session intensive series is designed to help parents and professionals gain the skills and knowledge necessary for them to be effective members at the Planning and Placement Team meeting (PPT). This training series will prepare participants for a variety roles at the school, district, regional or state level. Participants will learn about the law related to education as well as state and federal level initiatives that impact students with disabilities and their education. This training is an opportunity to learn how and where to give a voice to the needs of families of students with disabilities. Our goal is for participants to become active and collaborative team members in an effort to support student success. The training covers special education and related topics such as:

The Parent's Role at the Table: Planning and Progress Monitoring
Developing an Appropriate IEP
Laying the Foundation: Educational Laws and their Impact on Students with Disabilities
Reaching Agreement by Working Together
Transition to Adult Life and Self-Advocacy
Supporting Other Families
Effective Communication Strategies
Please see our Events Page for more information and our application.

Application is required for all and participation in all sessions is highly encouraged.

For more information or questions about the application process, please call the Connecticut Parent Advocacy Center at (860) 739-3089 or email Lisa at [email protected] (English session) or Kiomary Sotillo (Spanish session) (860) 758-0172 or [email protected].
Next STEPs Success Stories
Next STEPs Parent Advisors use the knowledge and confidence that they gained through their participation in the Next STEPs training program to effectively advocate for their children. Here are some of their personal stories of success.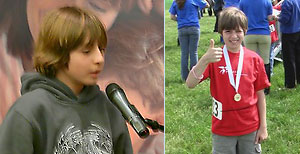 "Here is a picture of Matt participating in a spelling bee final last year. He is a strong speller and loves to get up in front of crowds - a perfect match for an event like this. Taking Next STEPs helped me recognize how powerful my child's strengths can be when trying to help him build on his potential. "The other one is a medal from Pegasus - a therapy riding program. Next STEPs helped give me the confidence to seek out opportunities available in our community for me and my family."
– Sherri, Parent of a 14 year-old with autism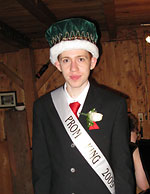 "Working on enhancing Jake's social skills paid off - as a senior in high school Jake was able to participate fully in his overnight class trip to Boston, dancing the night away on a Boston Harbor Cruise, and hanging with "the guys" at Fanueil Hall. Additionally, he not only attended the Sr. Prom but imagine my surprise when he arrived home and had been elected Prom King! Way to go Jake!"
– Jane, parent of 19 year old Jake who has autism and intellectual disability
Connect With Other Parent Leaders
Once you have completed the Next Steps program, connect with other parent leaders by requesting to join the CPAC Parent Leaders Facebook Group!

The group provides:
a place to connect with each other and ask questions or share information
up to date news related to changes to special education laws
helpful resources used by other families and CPAC staff
positive stories of student success
events and opportunities available exclusively to CPAC Parent Leaders
This group was formed as a closed group, if you are a Next STEPs Parent Advisor and would like to join, please visit the group page and request to join.