Resources for Employment, Access, Community Living, and Hope
REACH for Transition is a collaboration between nine parent centers serving parents, youth/young adults with disabilities, and professionals. Vocational rehabilitation providers, centers for independent living, and other adult system partners are represented on the project's 22 member Governing Board. The purpose is to provide innovative and responsive services that are designed with and involve diverse youth/young adults with disabilities and their families, highlight the region's strengths and collaborative spirit, and evolve as needs and contexts change, through a regional Community of Practice that enhances participating parent center capacity, reach, and partnerships around transition and adult service systems. REACH targets diverse youth/young adults with disabilities, their families, and professionals in the seven northeastern states (CT, ME, NH, NJ, NYC, PA, VT) served by the Connecticut Parent Advocacy Center, Maine Parent Federation, New Hampshire Parent Information Center, Association for Special Children and Families Community Parent Resource Center in New Jersey, Statewide Parent Advocacy Network of New Jersey, Advocates for Children of New York City, United We Stand of New York City, PEAL Center in Pennsylvania, and Vermont Family Network.
REACH will provide information, training, technical assistance and support to assist youth/young adults with disabilities and their families to (1) access innovative, supportive information on the Rehabilitation Act; (2) receive support in navigating multiple programs and service systems; (c) learn tools and strategies to actively participate in the development of useful, relevant, and meaningful plans for independence; and (d) become collaborative leaders with transition professionals to help youth impacted by disability achieve their goals.
US Department of Education Office of Special Education and Rehabilitative Services - Rehabilitation Services Administration (US DOE OSERS RSA).
Information provided by Statewide Parent Advocacy Network of New Jersey.
For additional transition resources, visit our Transition to Adult Life page.
For more information, please contact Beth Reel, Transition Coordinator, at (800) 445-2722 or [email protected].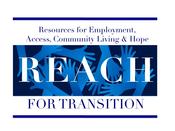 Other CPAC Programs